Become an Associate Member

Associate Membership
Our Associate Membership packages are designed for companies which are not directly involved in the ingredient supply or manufacture of pet food, but who may have connections with, supply into, or work with pet food companies and would benefit from working closely with UK Pet Food.
The Associate membership packages have been designed to be suitable to a broad range of sectors and include:
Industry consultant (Bronze level) - for independent consultants in the pet food industry, offering a range of benefits at a budget-friendly cost.
Marketing (Silver level) - for those looking to promote products and services within the industry through educational and applicable content.
Information Resource (Gold level) - for companies looking to access relevant and timely industry-specific information and resources.
Consultancy (Platinum level) - for companies looking for independent consultancy including technical support.
With this in mind we have developed an overview of the benefits and services in the table below available. (to be updated shortly)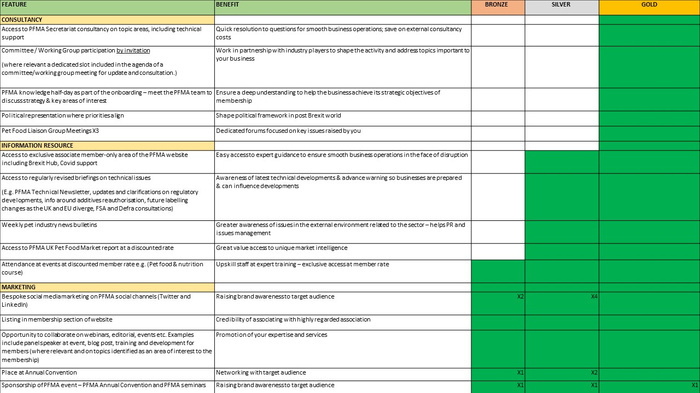 Please submit the application form and we will be in contact to set up a call.