FEDIAF Nutritional Guidelines for Cat and Dogs
FEDIAF has produced a nutritional guideline which members follow; the FEDIAF Nutritional Guidelines for Complete and Complementary Pet Food for Cats and Dogs. This is a comprehensive review of the NRC data and other existing science produced as a practical guide for manufacturers. The guidelines are peer re-viewed by independent veterinary nutritionists throughout Europe. Version 2021 has just been released!
The objectives of FEDIAF's Guidelines for Complete and Complementary Pet Foods for Cats and Dogs are: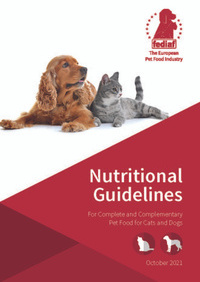 To confirm the basic nutrient levels required in cat and dog food and the industry adhere to these when manufacturing their wide range of products and recipes under biochemical, bacteriological and organoleptic control.
To help pet food manufacturers assess the nutritional value of practical pet foods for healthy animals.
To act as the reference document on pet nutrition in Europe for EU and local authorities, consumer organisations, professional and customers
To enhance cooperation between pet food manufacturers, pet care professionals and competent authorities by providing scientifically sound information on the formulation and assessment of pet foods.
To complement FEDIAF's Guide to Good Practice for the Manufacture of Safe Pet Foods and the FEDIAF's Guide to Good Practice for Communication on Pet Food.

Read more on the Fediaf website here.