Pet Food and Nutrition Course
UK Pet Food Training Webinar Series: Pet Food & Nutrition

Delivered by top UK Pet Food Industry Experts, Nutritionists and Vets
UK Pet Food: Pet Food and Nutrition trainings for pet professionals started in 2019. We run the course in two different formats of online webinars and classroom-based (residential) trainings to allow choice and flexibility. On this page you will find information about the online webinar series. For more information about the classroom-based course please visit this page. We aim to provide high quality and up-to-date training to a wide range of pet professionals worldwide.
---
Course content
Pet nutrition (Introduction, canine, feline, small mammals, pet birds and pet fish nutrition)
Clinical Nutrition (canine and feline)
Pet Obesity (causes, consequences, management and prevention)
Manufacturing safe pet food (dry, wet, raw and complementary products)
Pet food Legislation (UK and EU Pet food legislation, Animal by-products and Feed Additives)
Product labelling and marketing regulations and pet food claims
Download the Full Programme Here.
---
Delivery and practical aspects
Flexibility to register for daily or weekly webinars, or the full two-weeks programme
Live presentations via Zoom
Delivered over 6 half-days, across two weeks
Live Q&A sessions at the end of each session
Polls and quizzes to engage the audience
Learning material, including PowerPoint presentations and recorded lectures available to download
Certificate of Attendance on completion (digital via email)
CPD certified by CPD UK (The full two-weeks course provides approximately 20 hours of CPD)
---
Target Audience: Pet Care Professionals
UK Pet Food members (List of pet food manufacturers that are members of UK Pet Food can be found here)
Professionals working in pet food, animal feed or premix sectors
Animal nutritionists
Veterinary professionals
Pet food retailers, pet shop staff and grocery sector
Pet welfare charities rehoming and rescue centres
Students (Veterinary, Animal Science, post-graduate) with an interest in a career in pet food industry
Other pet professionals
---
List of speakers
Dr John Lowe – Consultant Nutritionist at Tuttons Hill Nutrition
Dr Christine Huggett - Founder & Director of The Pet Food Consultant
Dr Vicki Baldrey MRCVS - Lecturer in Exotic Species and Small Mammal Medicine and Surgery at RVC
Dr Donna Snellgrove – Specialist in Fish Nutrition and Physiology and Research Scientist at MARS Inc
Dr Marge Chandler MRCVS - Consultant in small animal nutrition at Vets Now Referrals
Dr Alex German - Professor of Small Animal Medicine at University of Liverpool
Alana Harvey-White – UK Pet Food Chair of Additives and Undesirable Substances Committee
Neil Leach – Animal By-Products (ABP) Consultant and former DEFRA Policy Advisor
Lana Morgan – UK Pet Food Head of Regulatory Affairs
Michael Bellingham – UK Pet Food Chief Executive
---
Prices & Discounts (2023)
We are pleased to offer special rates to UK Pet Food members, veterinary professionals, pet welfare charities, university students and members of FEDIAF and GAPFA as well as group booking discounts. Please see ticket prices and different discounts bellow.
University Students: If you are interested in a career in pet food industry, this course will increase your knowledge and understanding of the sector and could put you in a better position when applying for jobs. We offer 20% off for individual students, or 50% off for bookings of at least 5 students registering together.
Group bookings larger than 10: please contact us directly as we may be able to offer further discounts. Please contact [email protected] to discuss.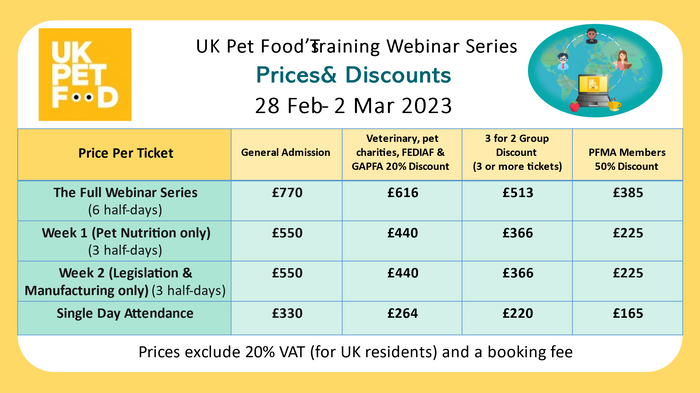 ---
Thinking of becoming a UK Pet Food member?
Become a UK Pet Food Member
Find out more about becoming a member of UK Pet Food to gain invaluable insights and benefits.
Contact us
If you have any questions please contact Sarah Hormozi ([email protected])