Pet Nutrition Course
UK Pet Food launched its training as a classroom-based (residential) course, with the aim of providing an all-round introduction to nutrition, pet food production and marketing regulations. We now organise online courses and the style is ideal for busy professionals with three half day virtual sessions per week. A range of tickets and discounts are available and attendees can sign up for specific sessions or the entire two-week course. You can read about recent course content below and also sign up to hear about future courses. If you have any questions do contact us at [email protected].
Sessions & Timetable
Below are all the sessions covered in our pet food and nutrition course, please note the images are examples from our previous sessions.
Week 1: Animal Nutrition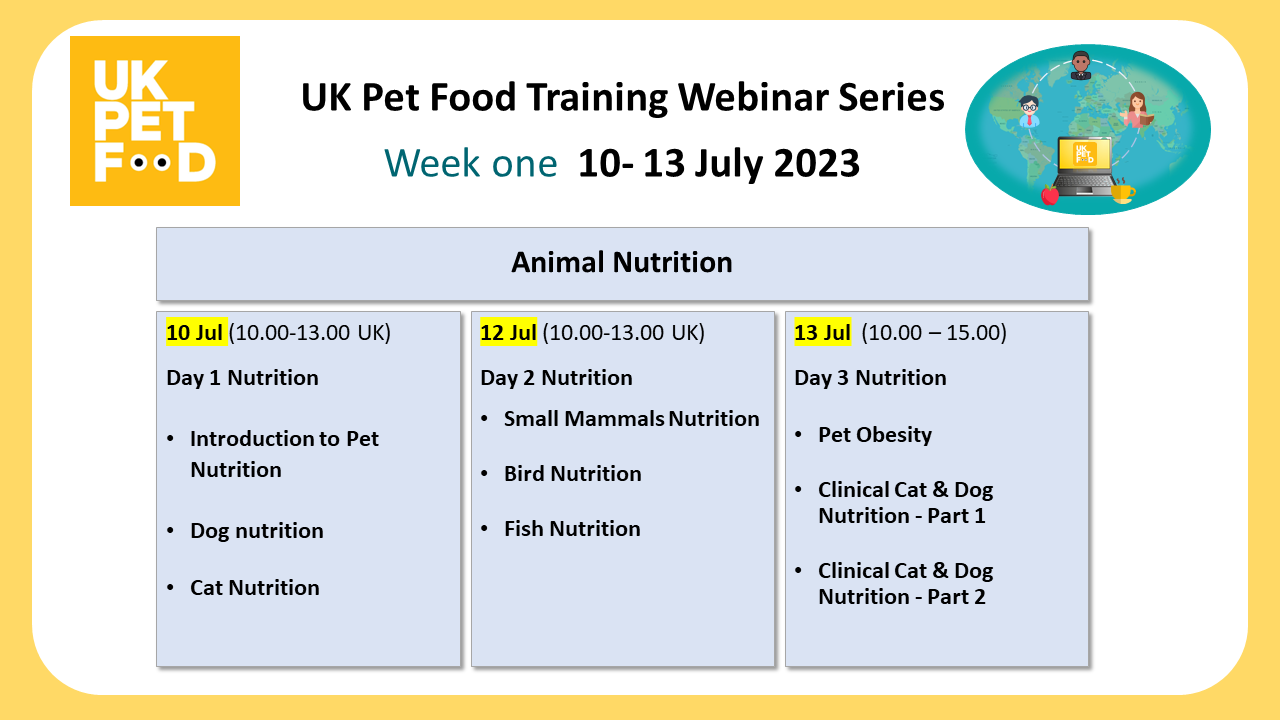 Week 2: Pet Food Legislation, Marketing & Manufacturing
UK / EU Legislation, Animal By-Products Regulation, Additives and Feed Materials
Palatability and Marketing Regulations
Manufacturing Safety and Quality for Wet, Semi-moist, Raw and Dry Pet Foods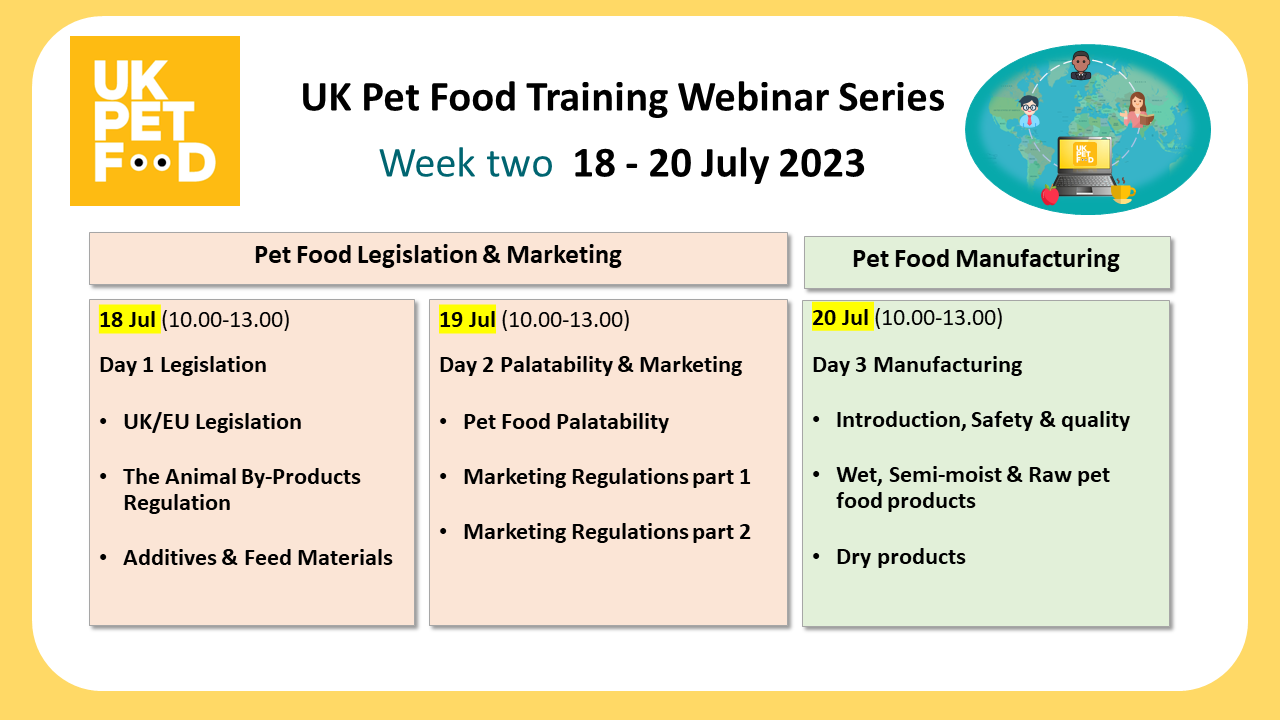 Course Speakers
We have a variety of experts who give presentations and teach our pet nutrition course. Here is the selection from our most recent course.

How is the course delivered?
Our online pet food and nutrition course is designed to be flexible and suit busy professionals.
Flexibility to register for daily or weekly webinars, or the full two-week programme
Live presentations via Zoom
Delivered over 6 x half-days across two weeks
Live Q&A sessions at the end of each session
Polls and quizzes to engage the audience
Learning material, including PowerPoint presentations and recorded lectures available to download
Certificate of Attendance on completion (digital via email)
CPD certified by CPD UK (The full two-week course provides approximately 20 hours of CPD)
Who is this course suitable for?
The course is tailored for all pet care professionals interested in pet nutrition and pet food production, including:
UK Pet Food members (list of pet food manufacturers that are members of UK Pet Food can be found here)
Professionals working in pet food, animal feed or premix sectors
Animal nutritionists
Veterinary professionals
Pet food retailers, pet shop staff and the grocery sector
Pet welfare charities rehoming and rescue centres
Students (Veterinary, Animal Science, post-graduate) with an interest in a career in the pet food industry
Other pet professionals
How much does the course cost?
We are pleased to offer special rates to UK Pet Food members, veterinary professionals, pet welfare charities, university students and members of FEDIAF and GAPFA, as well as group booking discounts. Please see ticket prices and different discounts below.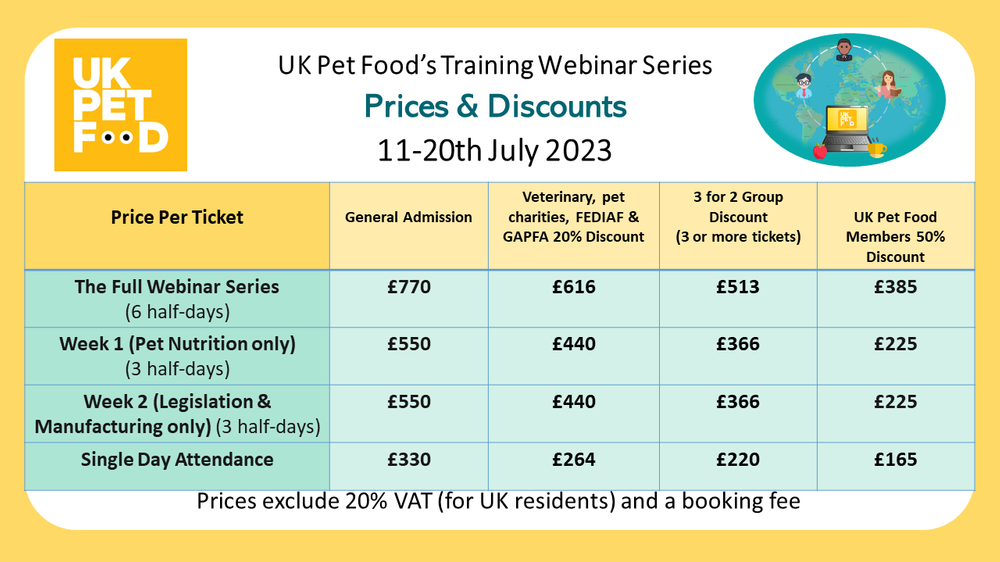 University students
If you are interested in a career in the pet food industry, our pet nutrition course will increase your knowledge and understanding of the sector. It could put you in a better position when applying for jobs.
We offer 20% off for individual students, or 50% off for bookings of at least 5 students registering together.
Group bookings larger than 10
Please contact us directly ([email protected]) as we may be able to offer further discounts.